Here you'll find links to people and resources to help keep us connected in a mutually supportive community.
These are in no particular order
Dream Suite is an actual brick and mortar radio show that airs in the UK, and can be streamed from the radio station website. Features a combination of vaporwave and adjacent genre. Host Yung Joey does an excellent job, and keeps an archive of episodes that you can listen to at his MixCloud.
~

~
Hot Takes Vapor: Every other Monday, Skeleton Lipstick and DJ Yung Shiro 白 engage in lively conversation with legends and rising stars in the vaporwave community.
https://www.twitch.tv/hottakesvapor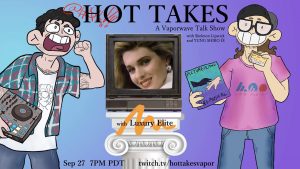 ~
Explore Utopia District, a project oriented vaporwave community.
Recontextualizing the past, for the future! Exploring internet music, art, and culture through the lens of vaporwave, plunderphonics, eccojams, and nostalgic media. What is Utopia District? Check out their About Page for details!
https://www.utopiadistrict.com/about/
Twitch https://www.twitch.tv/utopiadistrict
Discord https://discord.gg/DVdDzr8
Web https://www.utopiadistrict.com
~